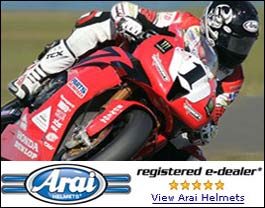 Atlantic Moto
Largest selection of Motorcycle helmets, clothing, accessories & parts - at the best prices in the USA.

Free shipping on all 2009 Arai Helmets
We specialize in selling Arai Helmets , including Arai Corsair V, Arai RX7, Arai XD, and Arai Quantum 2 helmets.

2010 Shoei RF-1100 Helmets in Stock Soon
Looking for Shoei Helmets - including Shoei RF1100 and Shoei X-12 with Free Shipping and 10% off. We carry the full line of Shoei Helmets including the new Shoei RF1100 helmet - released in October 2009. View our selection of RF1100 Helmets

Many more motorcycle helmets added daily. If you can't find what you are looking for, just drop us an email . Our friendly & knowledgable staff are always happy to help.

We can supply most helmets - Arai , Shoei , Bell, HJC , Nolan , etc.